Regular price
$149.00 USD
$149.00 USD
Sale price
Regular price
$199.00 USD
Unit price
per
25% OFF
Sold out
Regular price
$149.00 USD
$149.00 USD
Sale price
Regular price
$199.00 USD
Unit price
per
25% OFF
Sold out
Introducing Flex Aware, the first wireless outdoor contact sensor with built-in cellular connection. Perfect for fence gates, delivery boxes, storage units, outbuildings, or any out-of-range asset.
 Completely wirelessBattery-powered. No cables, no wires.
 Cellular connectionBuilt-in Verizon or AT&T.

Weatherproof Durable in rain, snow, or extreme heat.

 Long battery lifeOperates 24/7 up to 2+ years, no charging required.

---
Service Subscription
$7.99/month for a single device
Only $4.00/month for each additional device
Subscription Details

The more devices you add to your All Aware™ subscription, the more you save and the more awareness you benefit from.

Only $7.99/month for your first Flex Aware.

Only $4.00/month for every additional Flex Aware.

• Add up to 10 Flex sensors for expanded awareness.

• Your first full month of cellular service is paid for during checkout.

• Choose between Verizon or AT&T after checkout.

• No SIM card required.
Shipping

Free - FedEx Ground (3-5 business days)

$9.95 - FedEx 2Day Delivery

$29.95 - FedEx Overnight Delivery
Mounting Options

Screws (included)

Zip ties (included)

Dual-lock tape (included)

Mounting video and instructions included.
Specifications

Power: 4x AA lithium batteries, or 5-15 VDC supply, minimum 0.5 A (included)

Dimensions: Main unit: 6.8 x 2.2 x 1.3" (17.3 x 5.6 x 3.3 cm), Magnet: 3.1 x 0.68 x 0.87" (7.9 x 1.7 x 2.2 cm)

Operating temperature: -40°F to 140°F (-40°C to 60°C)

Ingress protection: IP56
View full details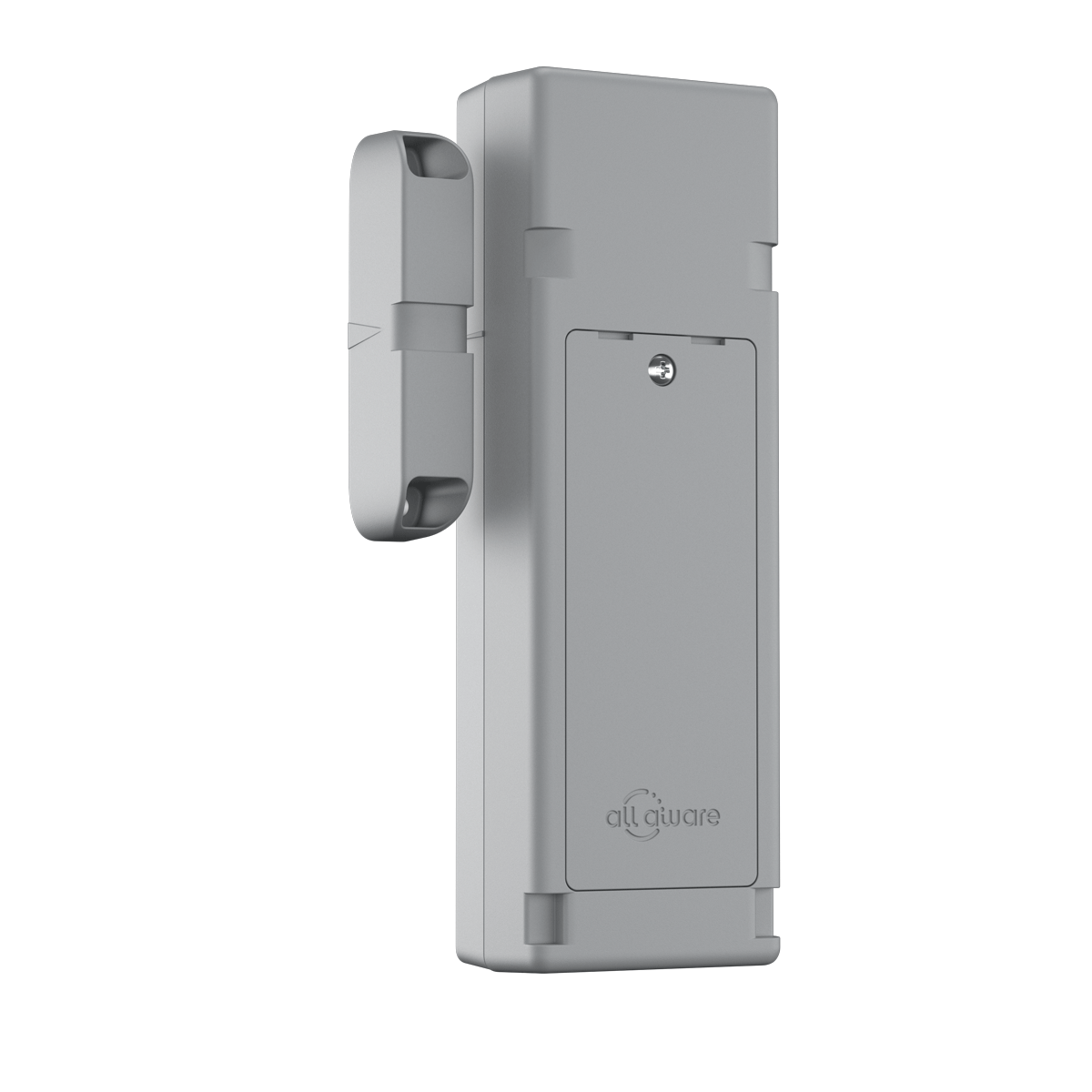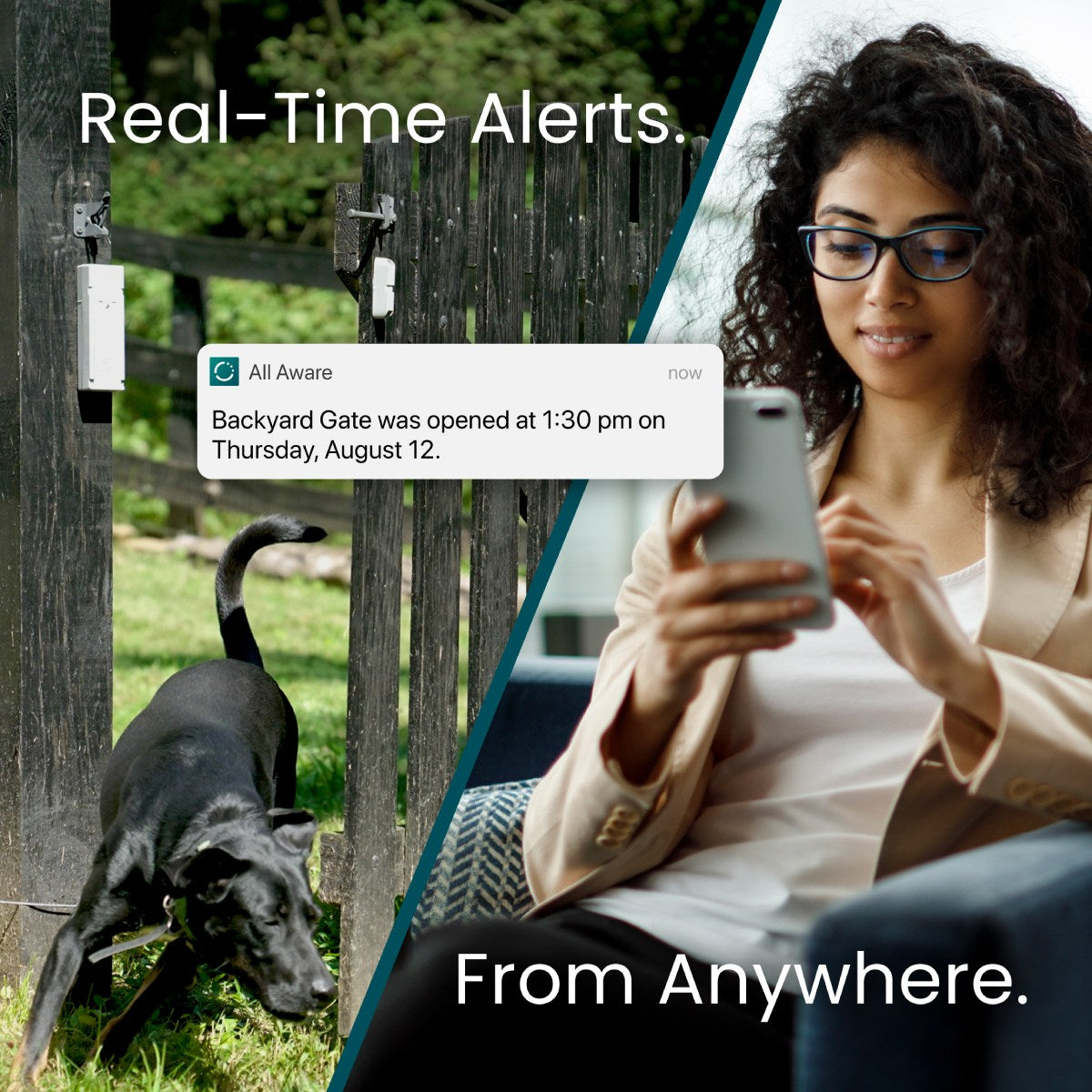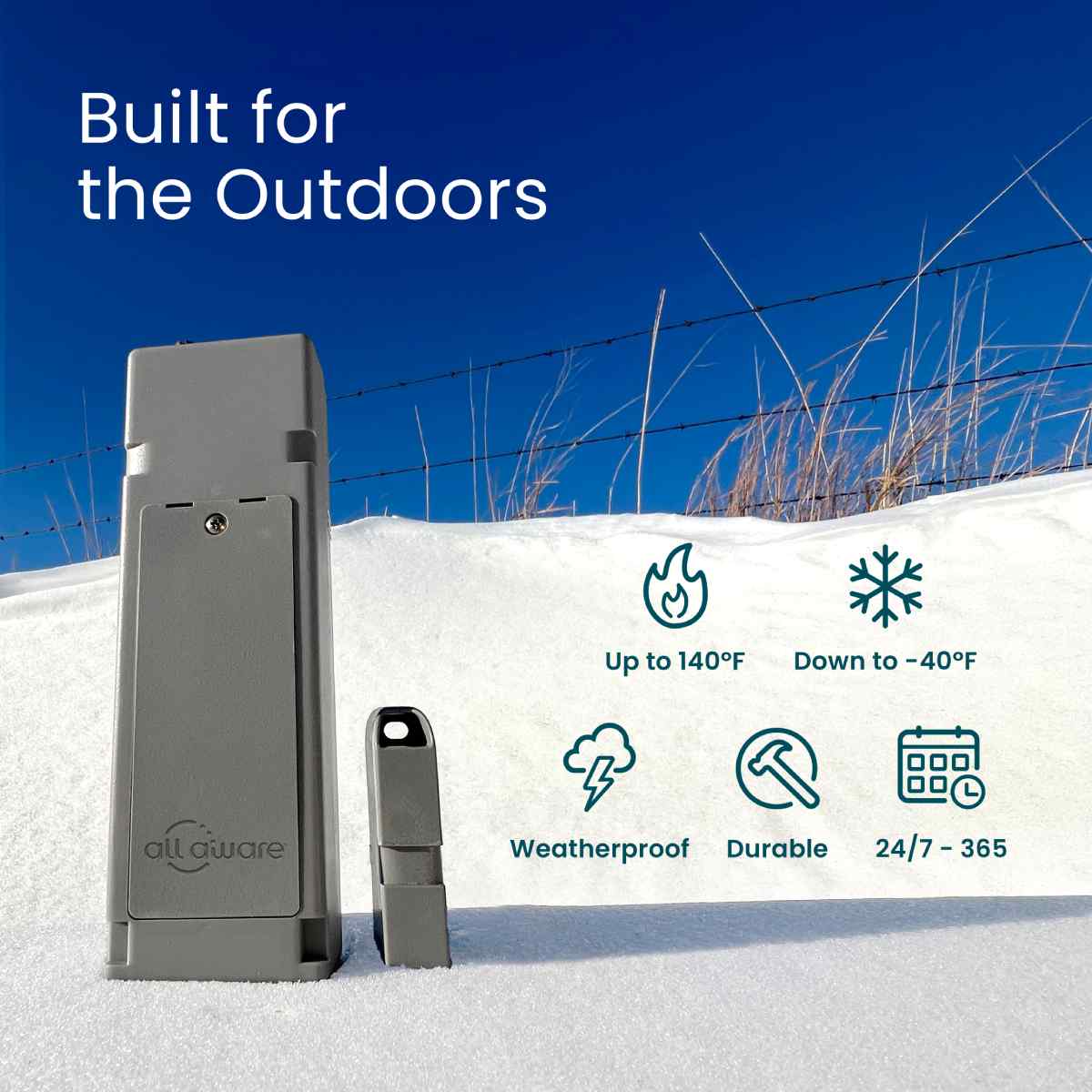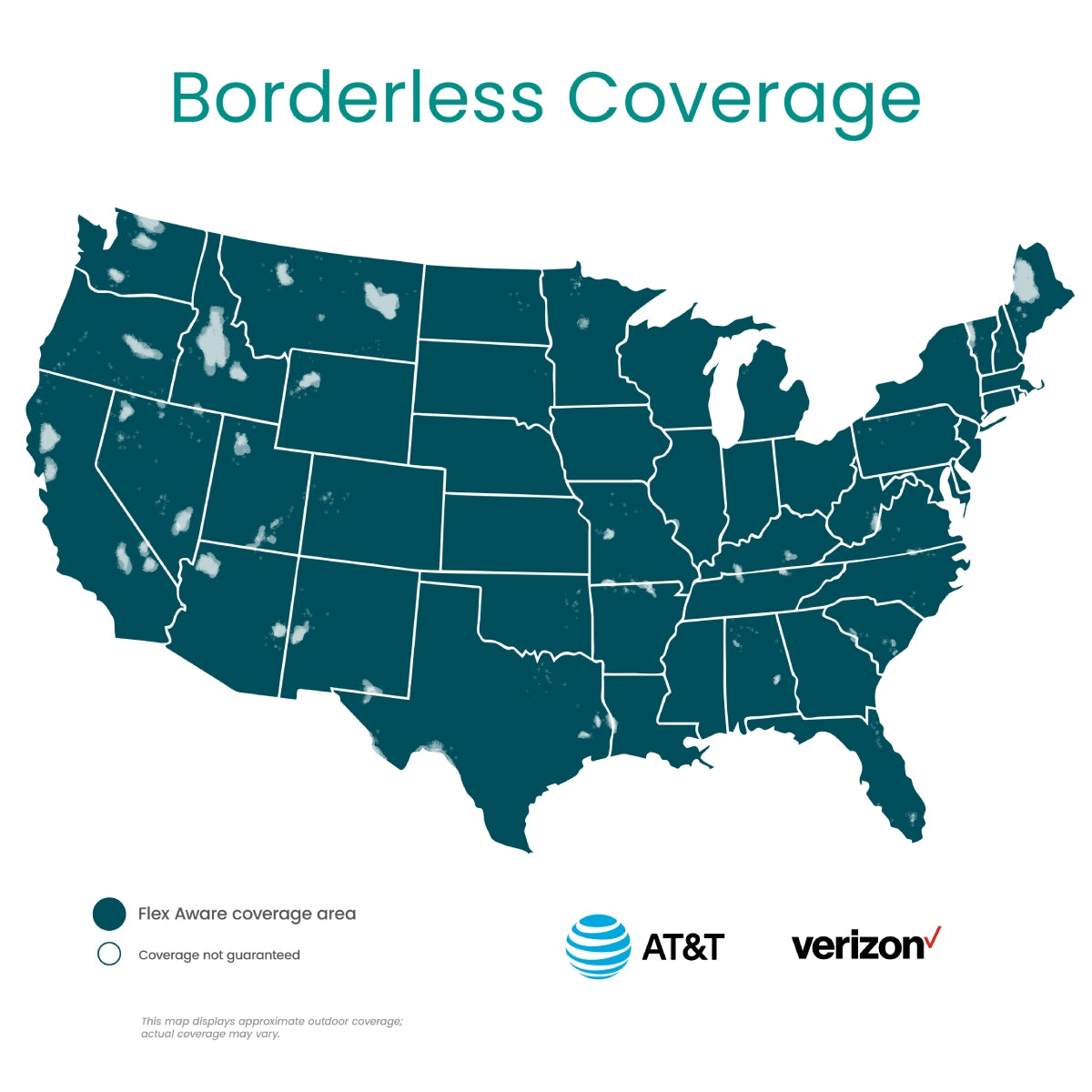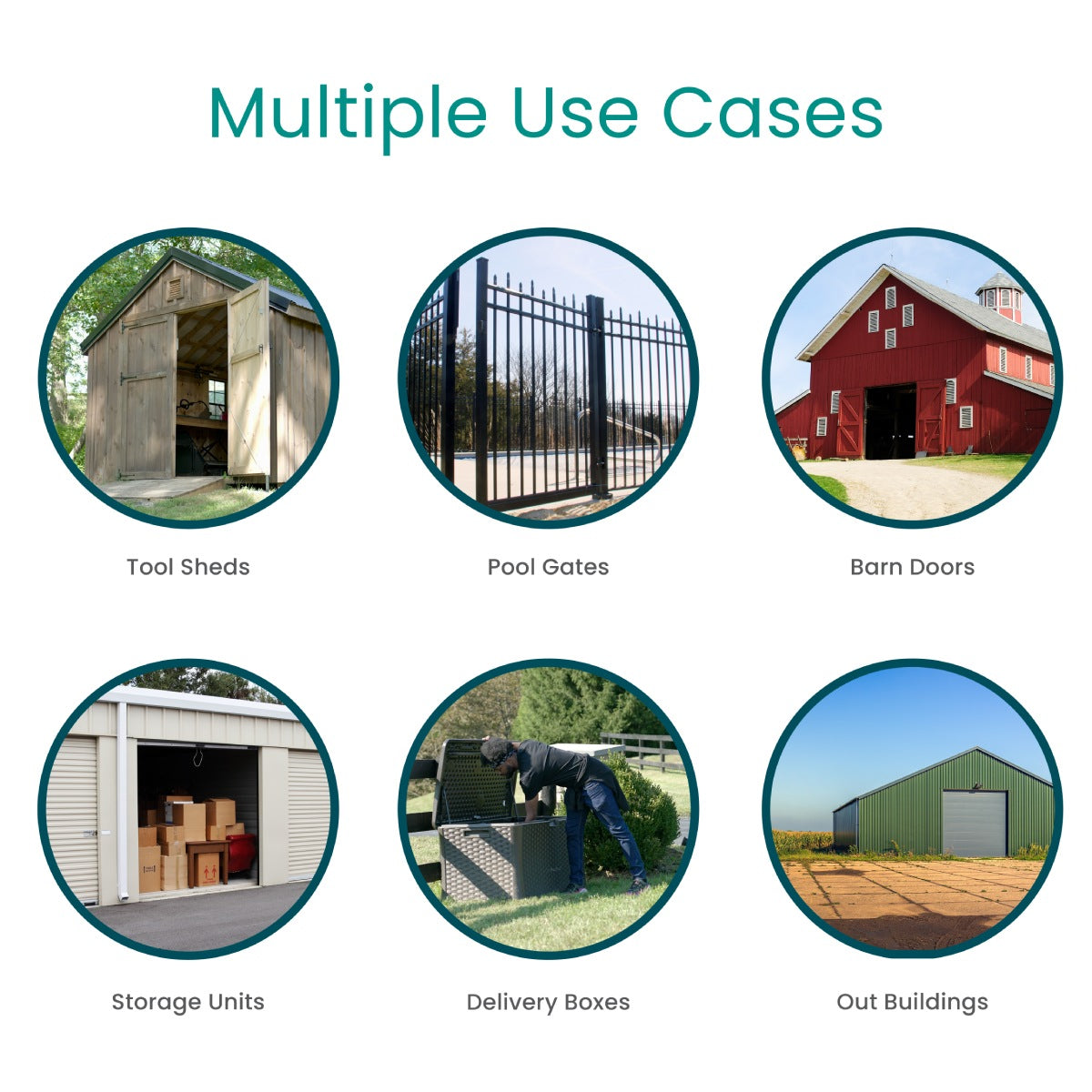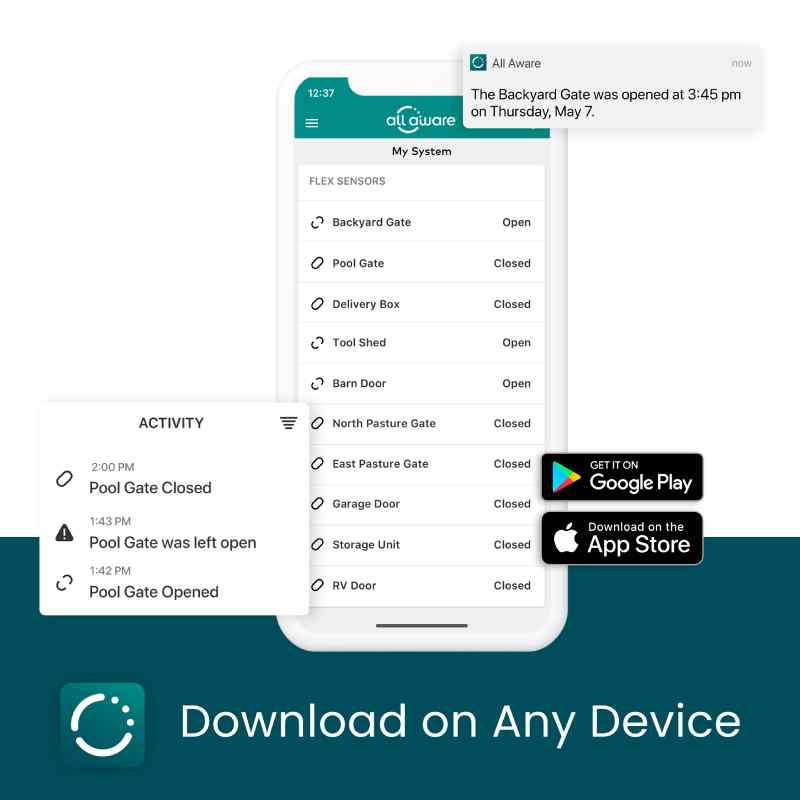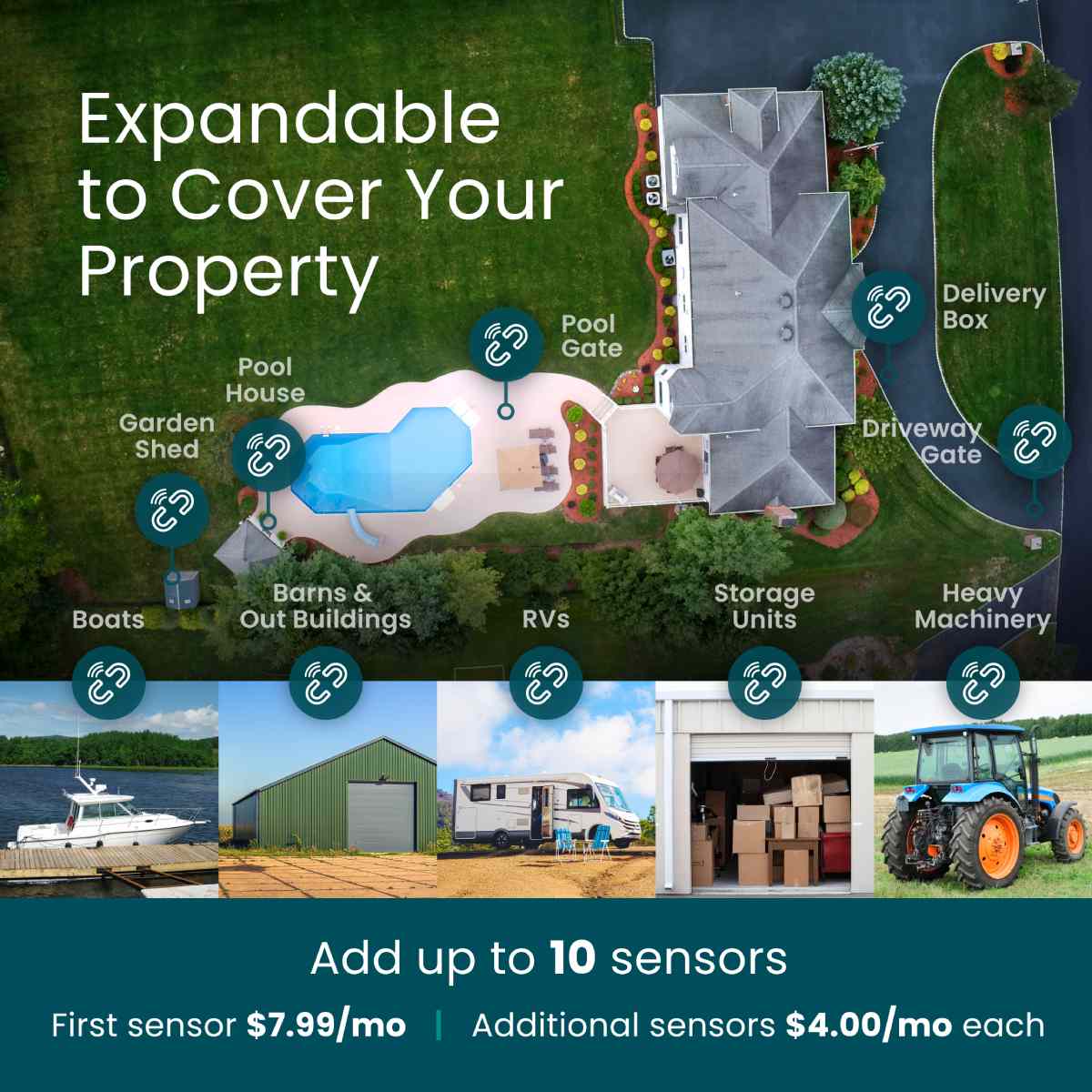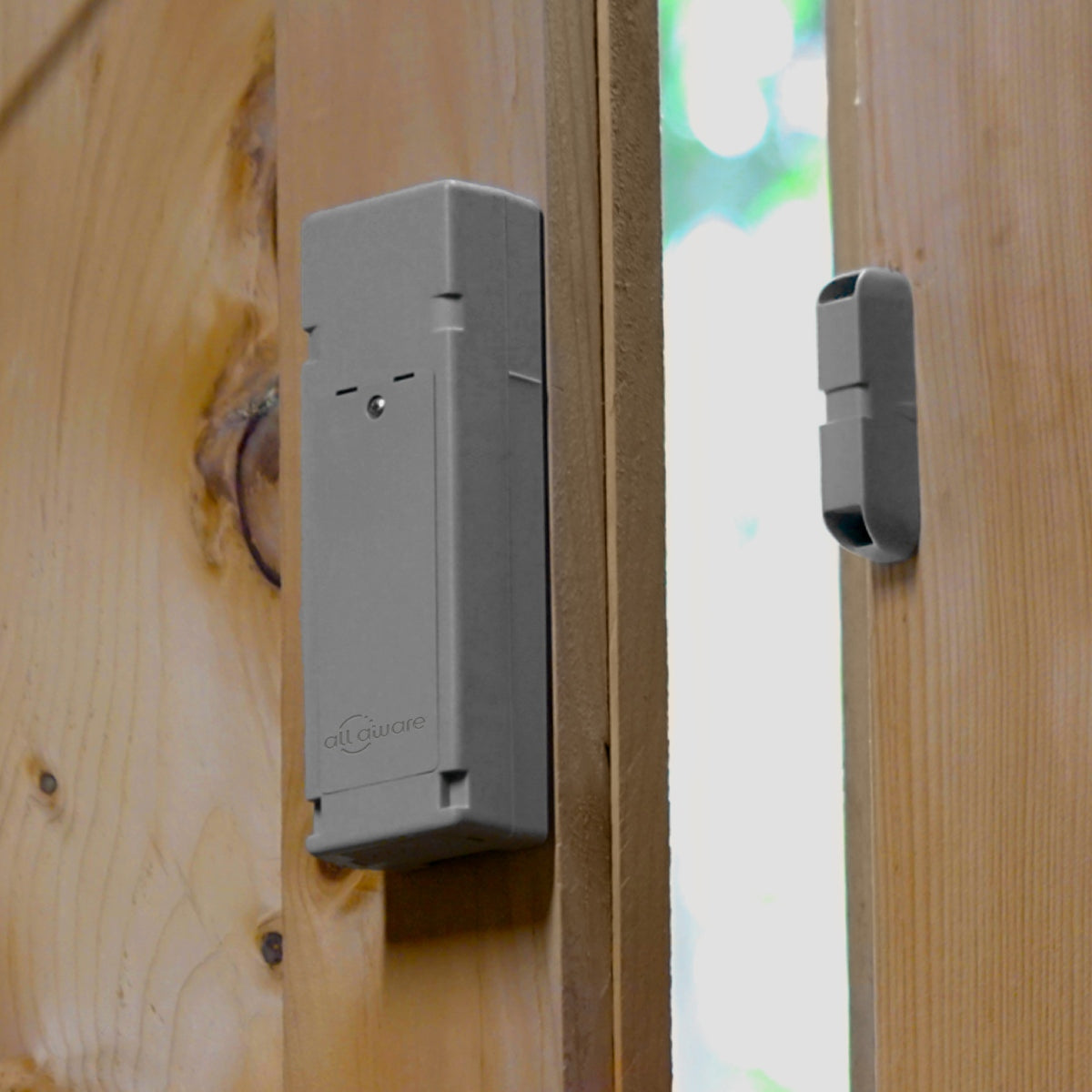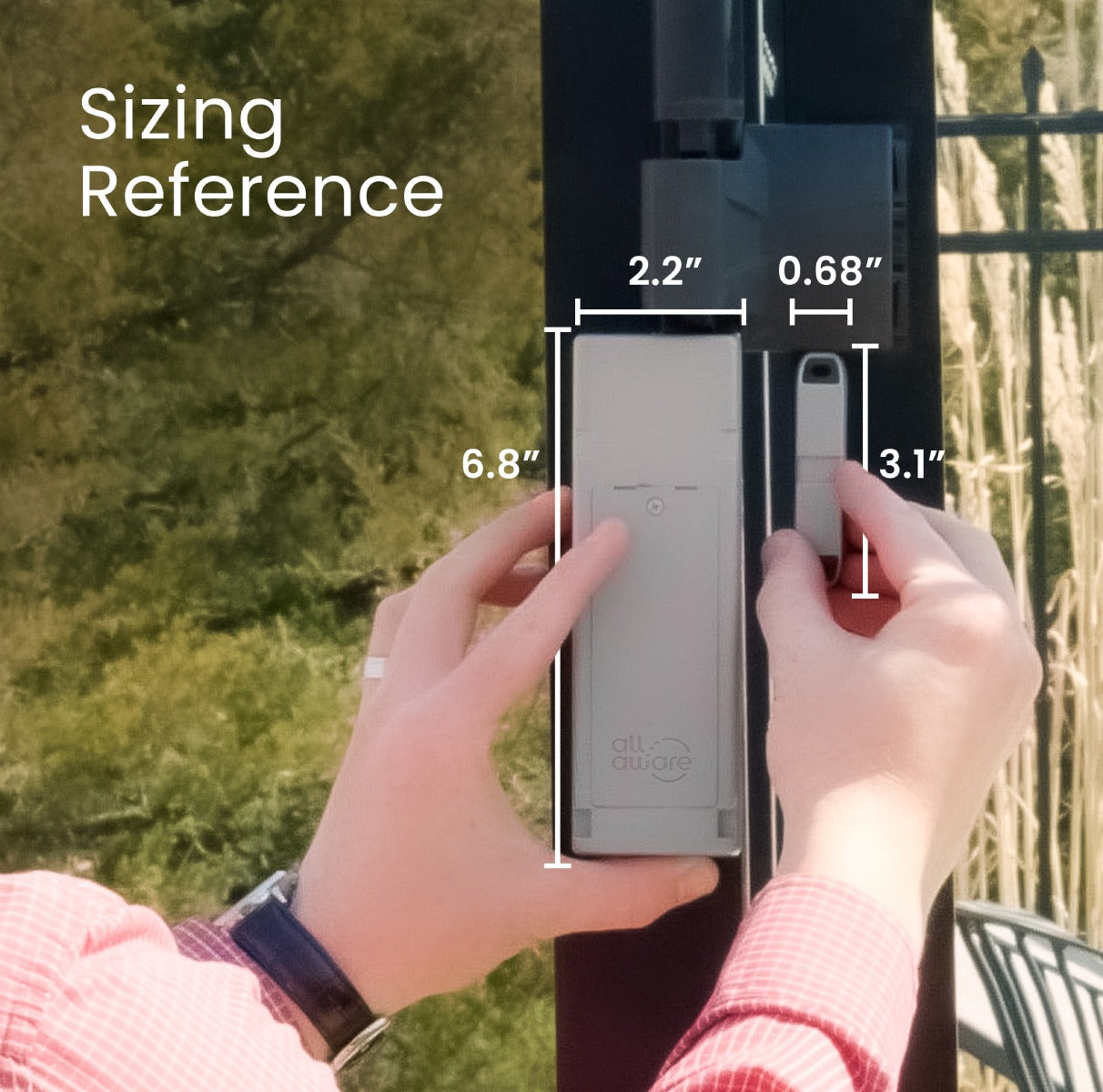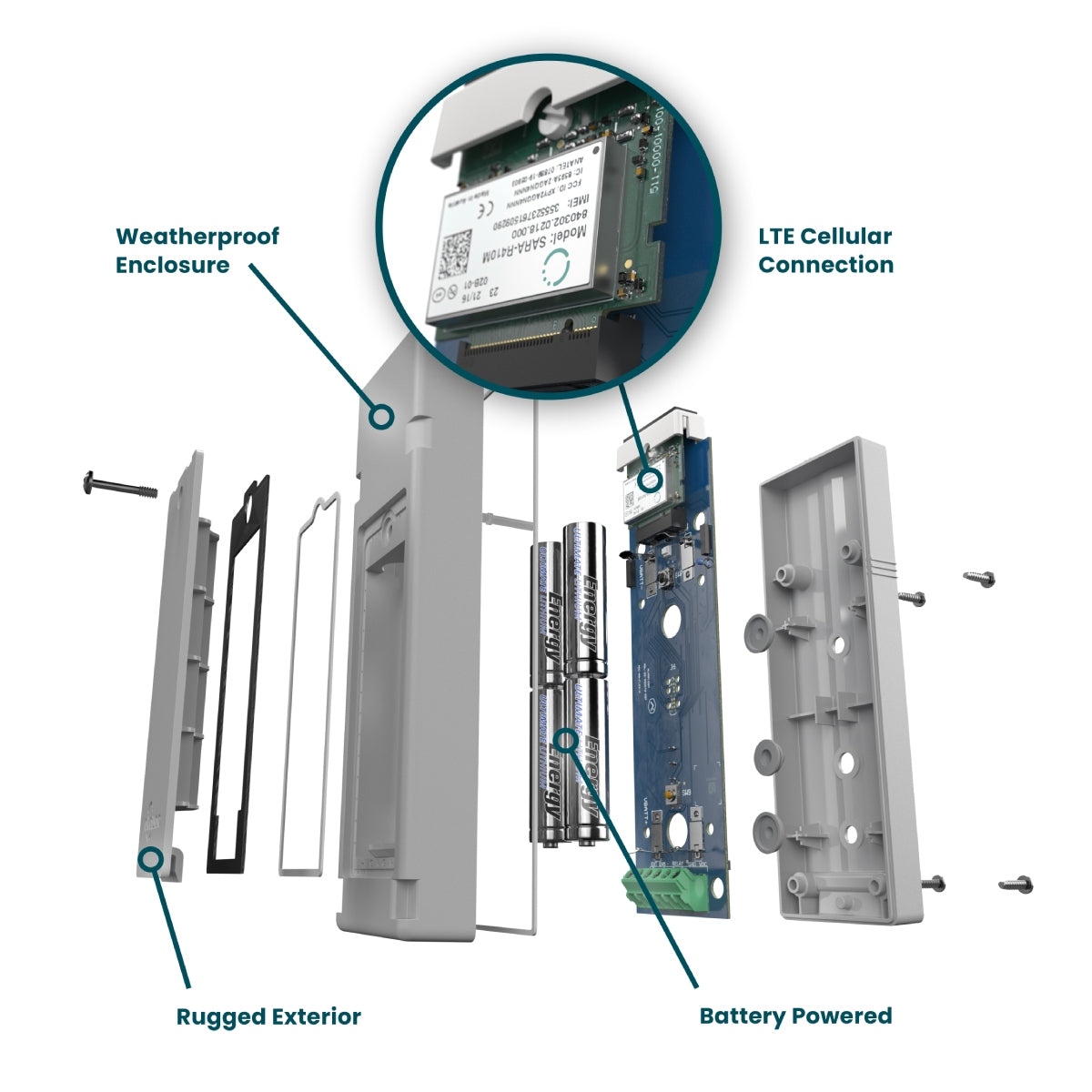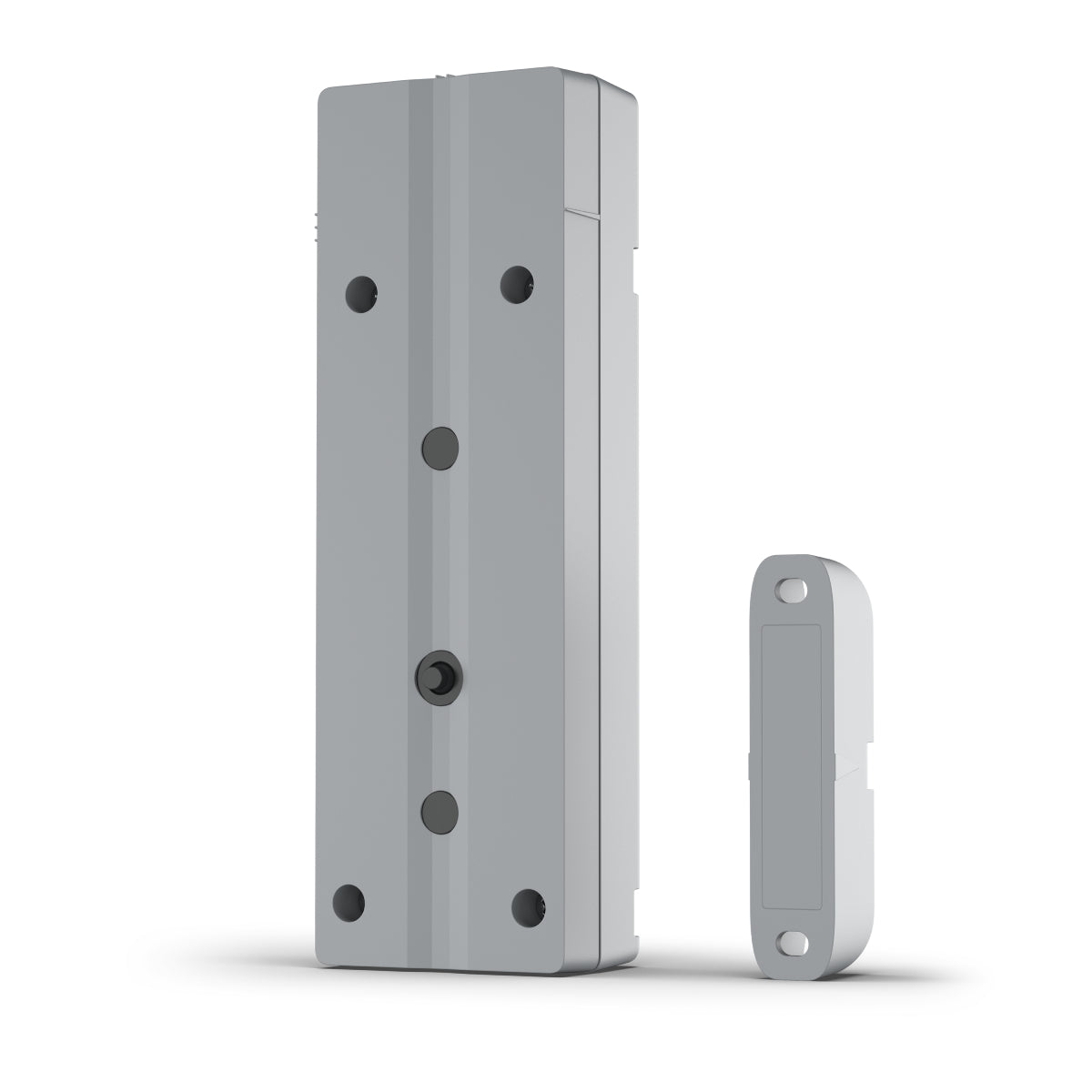 Monitor anything. From anywhere.
Smart

as a smartphone.


Tough

as nails.
Weatherproof

Flex Aware is built for the elements with an IP56 rating. Install it on your gate, your boat, your RV, or your barn door for uninterrupted protection. Heatwaves, rain, and snow are handled with ease and without interrupting operation.

Battery Powered

Flex Aware is not only wireless but also incredibly efficient – support a battery life of two years. There's no need for proprietary re-charging cables either. Four long-lasting Lithium AA batteries power your Flex Aware from dawn to dusk to dawn again, season after season.

Cellular Connection

Unlike ordinary contact sensors, Flex Aware has its own cellular connection and doesn't need to be within range of a router. From the backyard to the backwoods, Flex Aware works 24/7 anywhere there's a cellular signal.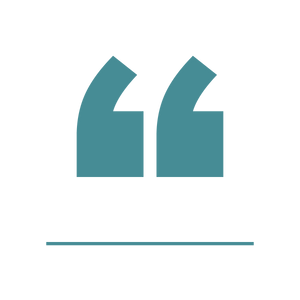 "Simple and reliable! The system was very easy to set up and it worked trouble-free."
Mount to anything... with ease.
The "Flex" in Flex Aware comes from its ability to be mounted anywhere. There are no complicated wiring or pairing instructions. Flex Aware is completely wireless.
Just mount it and use it. It's completely self-contained. It can also be mounted with screws, zip ties or even durable adhesive strips (all included). Mount it to anything you can imagine... with ease.
Unlimited Range.
Flex Aware doesn't use WiFi or Bluetooth. It connects straight to the cellular network allowing you to monitor property and assets whether they're close by or hundreds of miles away.
Flex Aware comes with a built-in cellular communicator available as Verizon or AT&T.
Weatherproof for Any Application.
Rain? Sleet? Snow? No problem. Flex Aware is weatherproof and built tough to withstand torrential downpours or heavy snowfall.
It's also resilient to extreme temperatures – from scorching hot July's to arctic cold February's – it just keeps working uninterrupted.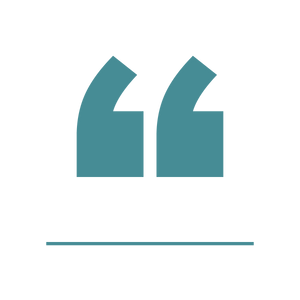 The hardware is robust enough to make it through New England winters without an issue!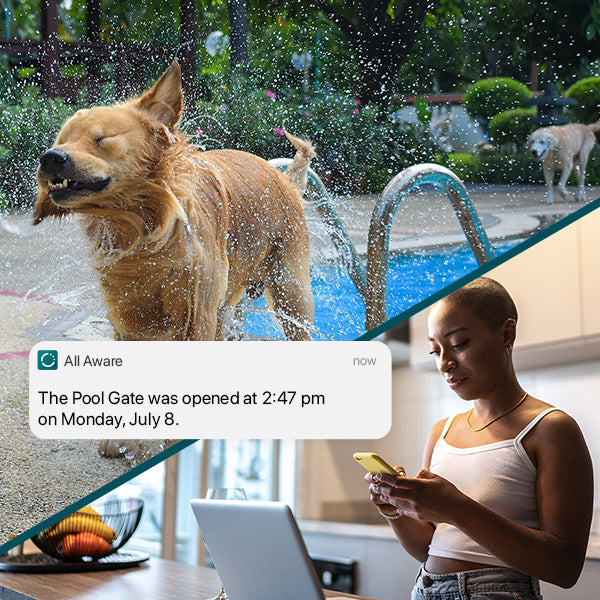 Real-time Alerts
The Flex Aware tracks activity in real-time. When your gate, delivery box, or other assets are accessed, you'll know instantly. Plus, you can set schedules and rules to receive activity alerts only when you need them.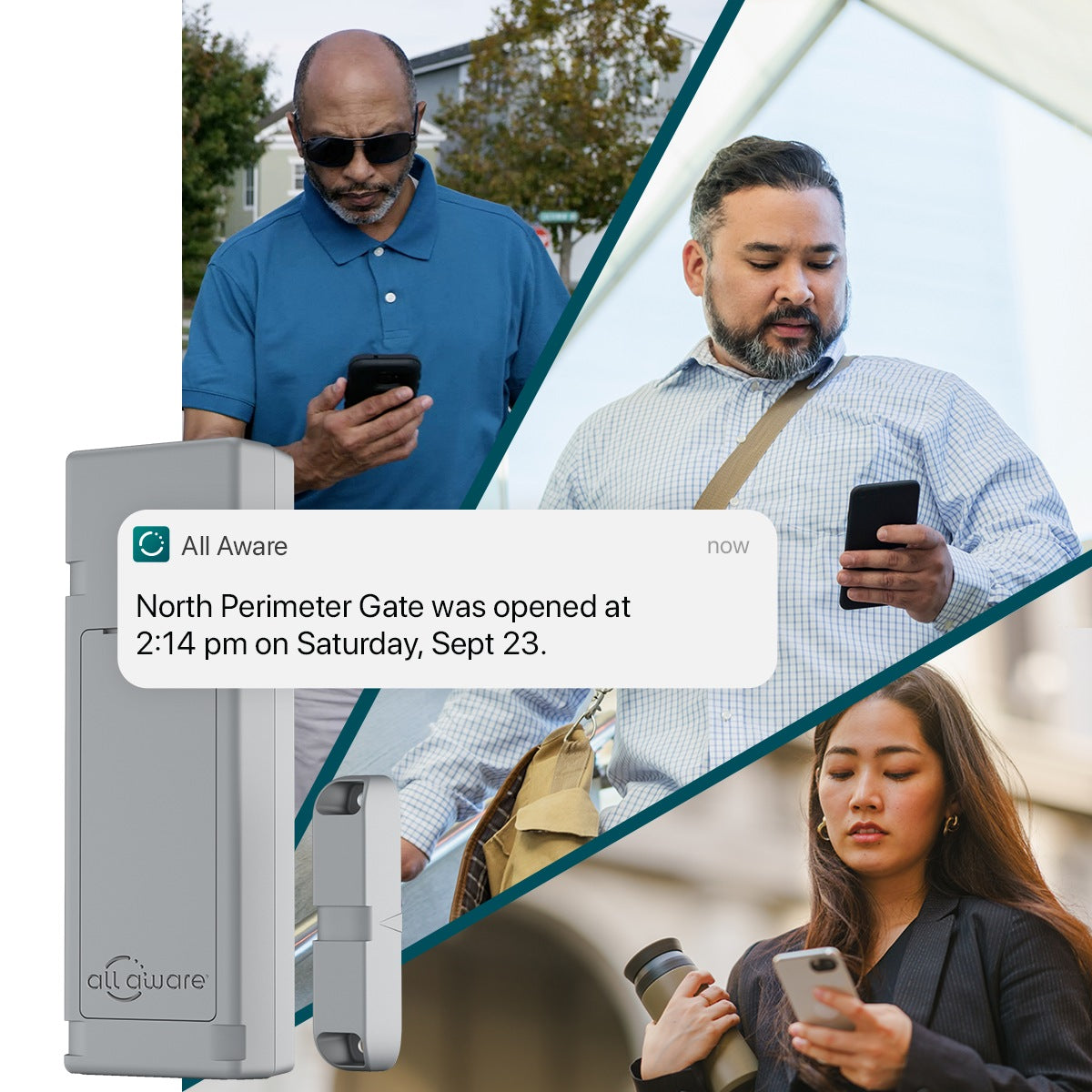 Keep Everyone Informed
Add others to your All Aware™ app to keep them informed with you. You control which users get alerted. Determine who to notify when your storage unit is opened—while notifying others only when your gate was left open too long.
Alert options include automatic push notifications, text messages, or email alerts.
Unlimited Flexibility
Your property likely extends past your home's Wi-Fi range. That's why having a cellular connection empowers you to monitor anything, anywhere.
Whether you own half an acre or half a million acres, you won't be limited. Monitor a shed, barn, or fence gate from anywhere.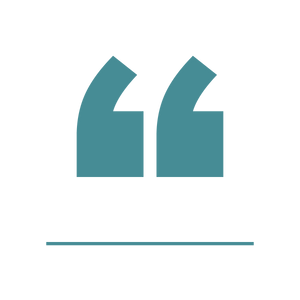 "The status updates [from] the Flex Aware really offer peace of mind."
Check Coverage
With the help of Verizon or AT&T's LTE cellular coverage, you can install your Flex Aware wherever you want, whether that's close to home, or far from it!
Check the cellular coverage below by entering the zipcode of where you would install your Flex Aware.
Frequently Asked Questions
How long do the batteries last?

If you are using the recommended 1.5V AA lithium batteries, battery life is expected to be 2 years. Do not use Alkaline batteries in your Flex Aware.
Do I need a SIM card?

Flex Aware has a built-in cellular connection. No SIM card required!
Which cellular provider should I choose?

Immediately after purchasing your Flex Aware device(s), you will be asked to finish setting up your account. During this process, we calculate which cellular carrier is most reliable based on where you intend to install the Flex Aware. Our setup process is easy and only takes a minute after checking out.

Please note: We do not offer SIM card support. Our built-in carrier options are Verizon and AT&T.
Do you charge a subscription for the All Aware app?

We do not charge for using the All Aware app. We charge a subscription for the devices you have on your All Aware account. Subscription amounts vary by customer depending on how many devices you have on your account.
Can I really cancel at anytime?

Yes, you really can! All Aware offers a subscription that allows flexibility. You can cancel one or all of your devices at any time.

Subscriptions are pre-paid. When you cancel, your service and app will continue to work until the pre-paid service duration has elapsed. This is at the end of each month.
Can I add additional users to my account?
Do you have installers, or can I install it myself?

You can install the Flex Aware without an installer.

Included in the box are multiple mounting options to help your installation. Screws, zip ties, and strong dual-lock tape are all provided free of charge. Additionally, when installing your Flex Aware, there is a step-by-step installation wizard on our app that walks you through the process.
Why don't I see my question here?

That is a great question! Ask us your Frequently Asked Question by clicking here and we'll get back to you as quickly as possible!
Flex Aware
Regular price
$149.00 USD
$149.00 USD
Sale price
Regular price
$199.00 USD
Unit price
per
25% OFF
Sold out
Save $50.00 for every Flex Aware you purchase today!

30 day free returns
Free Shipping
No hidden fees
View full details