Get
Real-Time Alerts

Whenever Your Container Is Opened.

(Even If It's Miles Away.)

Receive instant alerts when any property points are accessed and discover stress-free property monitoring.
Act faster when it matters most
Increase awareness, 24/7
Reduce property risk
Now, with real-time awareness at your fingertips, you can rest easy knowing your belongings are exactly as you left them.
Introducing Flex Aware™
The first wireless outdoor contact sensor with built-in cellular connection.
Put it anywhere, use it from everywhere.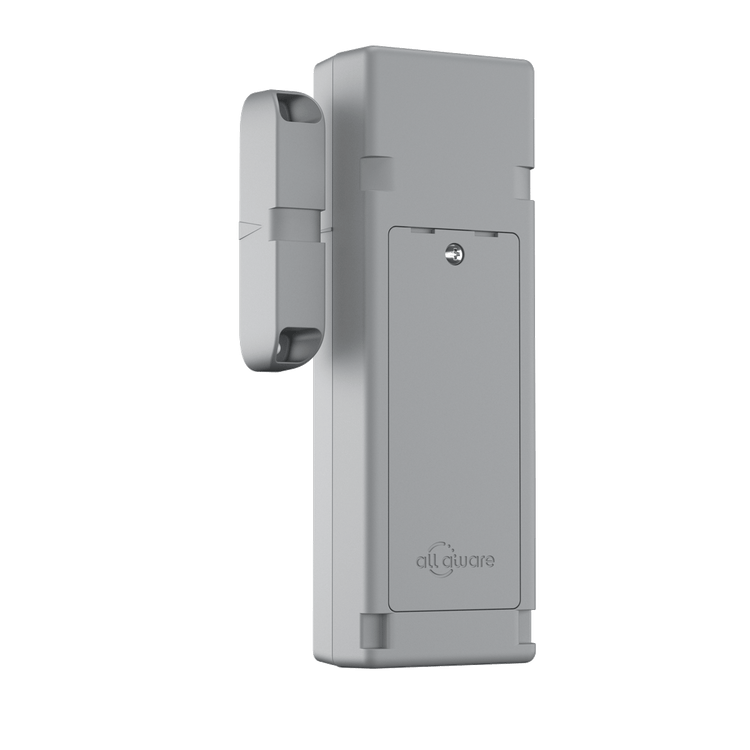 Weatherproof
Built tough for the outdoors. With an IP56 rating, it's fully functional through rain, snow, or extreme heat.
Cellular Connection
Attach to free-standing structures like gates, boats, or RVs, for 24/7 awareness–without wires or limits on distance. SIM card included.
Completely Wireless
Whether you're a DIYer or need instructions, enjoy peace of mind on your own terms with easy-to-install technology. No wires, no power required.
First Of Its Kind
Backed by Alarm.com's
world-class technology, Flex Aware is purpose-built for you with customizable alerts and flexible protection.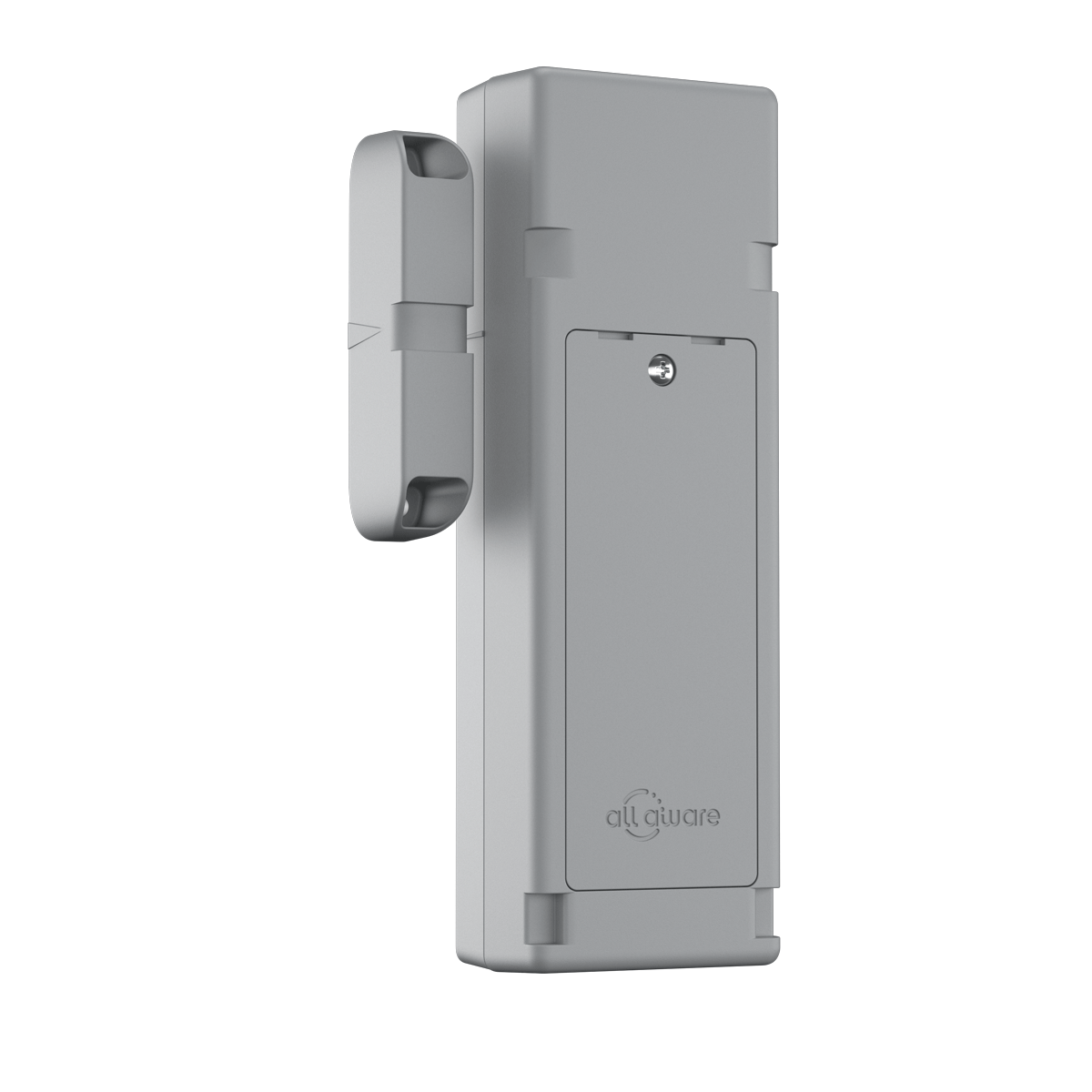 "
Flex Aware instantly notified me when utility service workers were entering the premises through the backyard to perform maintenance from the outside while I was not at home. Even though I have cameras, they don't cover all areas especially where this door is as it is far from the actual property. This has been extremely useful to know the time they entered and left!
Ankin J (Use-case: Fence Gate)
"
Built Tough for the Outdoors

Flex Aware is built for the outdoors with an IP56 rating. Mount it on your fence gate, storage shed, or access point for uninterrupted monitoring. Nearby indoor or distant outdoor uses are handled with ease.

Built-in Cellular Connection

Unlike ordinary contact sensors, Flex Aware has its own built-in cellular connection and doesn't need to be within range of a router. From the backyard to the backwoods, Flex Aware works continuously anywhere there's a cellular signal.

Long 2+ Year Battery Life

Flex Aware is not only wireless but is also incredibly battery efficient. Four long-lasting Lithium AA batteries (included) tirelessly power your Flex Aware for up to two years in normal conditions – making it virtually maintenance free.
Monitor anything. From anywhere.
"
The hardware is robust enough to make it through New England winters without an issue!
Martin C (Use-case: Gate)
"
Mount to anything... with ease.
The "Flex" in Flex Aware comes from its ability to be mounted anywhere. There are no complicated wiring or pairing instructions. Flex Aware is completely wireless. Just mount it and use it. It's completely self-contained. It can also be mounted with screws, zip ties or even double-sided velcro tape (all included). Mount it to anything you can imagine... with ease.
Unlimited Range.
Flex Aware doesn't use WiFi or Bluetooth. It connects straight to the cellular network allowing you to monitor property and assets whether they're close by or hundreds of miles away. Flex Aware comes with a built-in cellular communicator available as Verizon or AT&T.
Weatherproof for Any Application.
Rain? Sleet? Snow? No problem. Flex Aware is weatherproof and built tough to withstand torrential downpours or heavy snowfall. It's also resilient to extreme temperatures – from scorching hot July's to arctic cold February's, it just keeps working uninterrupted.
Unlimited Applications
Choose your use-case category below to explore some popular Flex Aware applications. With Flex Aware, only your imagination is the limit of potential uses for monitoring anything, anywhere!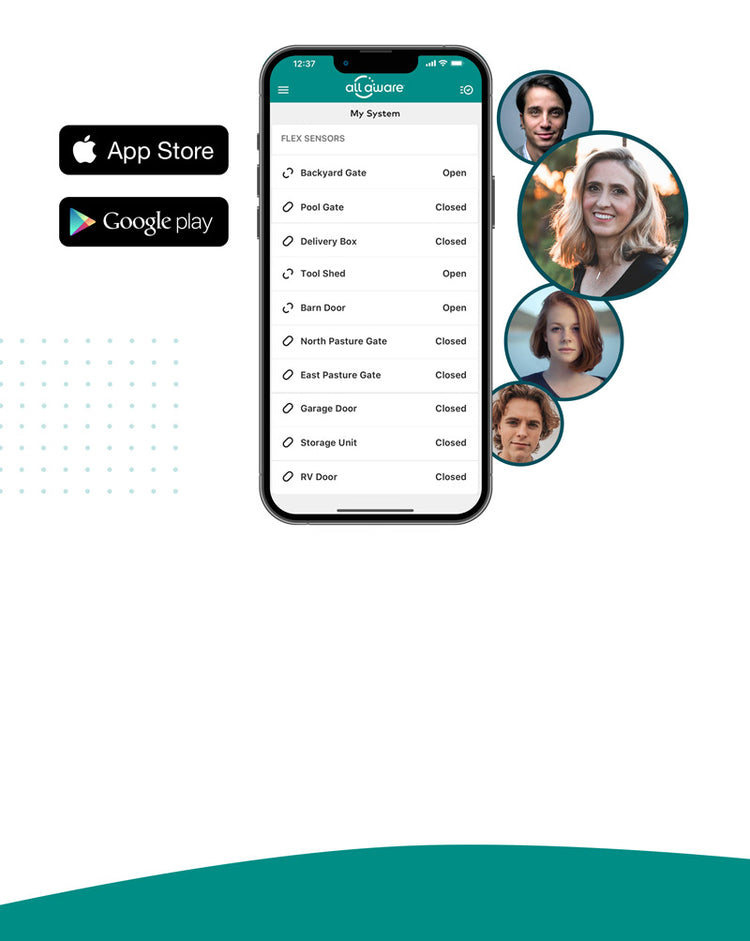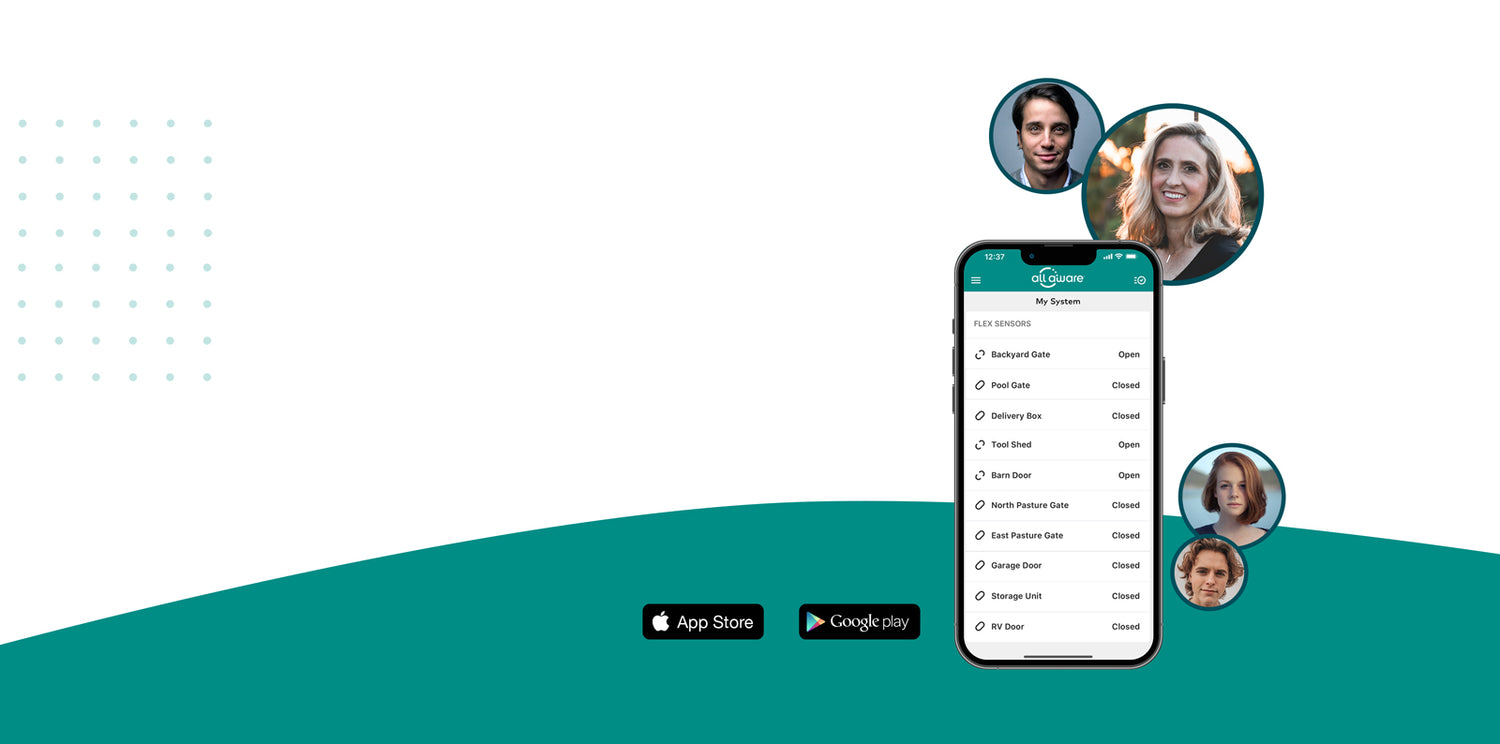 Customize notifications for each Flex Aware, add others to your account, and control permissions.
Customize Notifications

In the All Aware app, you can build custom notifications for each Flex Aware device you install. Select your notification type – email, SMS, push notification, or a combination of all three. Then add yourself and anyone you choose to receive the alerts you choose. Click "Save" and it's done. It's the easiest way to monitor remote property or assets.

Intelligent Filters

Each remote property or asset can benefit from intelligent filters. With All Aware, you can choose to trigger alerts when any door or gate is opened, or choose to only trigger alerts when properties are left open for more than 5 minutes. Go a step further and create alerts based on time of day, geofencing, and more!
Why All Aware?
Cancel Anytime

All Aware offers a transparent, month-to-month subscription for each Flex Aware device. The best part? You have the freedom to add or remove devices from your subscription as your needs change. Plus, should you need to cancel your entire subscription, you can do so with a click of a button.

Free Returns

We understand that after purchasing we sometimes change ours minds. That's perfectly fine! Feel confident with every purchase you make, knowing you can return it within 30 days, absolutely free. Our process is straightforward and stress-free – no strings, no complications.

No Hidden Fees

We're delighted to share our transparent subscription policy with you - a policy that guarantees absolutely no hidden fees or reading fine print between the lines! Our pricing structure is clear and simple. We believe that transparency is a fundamental right of every customer.
Frequently Asked Questions
What's the difference between Flex Aware and Flex Aware Connected Cable?

Flex Aware uses a standard door contact magnet for monitoring use-cases that close with a click or snap. The standard Flex Aware will work for the majority of use-cases.

For non-latching tube gates, or assets, we recommend Flex Aware Connected Cable. Connected Cable is ideal for pasture gates or other gates that might not close securely.
What is the pricing for the subscription?

Each Flex Aware has a subscription per month.

Your first Flex Aware is $7.99 per month for unlimited alerts, unlimited users, and unlimited everything. Any additional Flex Aware you add is only $4.00 per month.

Your subscription renews on the 1st of every month. At checkout, you pay for your first full month of service. (It's our way of giving you some time to get your package and install your devices without cost.)
Can I really cancel at anytime?

Yes, you really can! All Aware offers a subscription that allows flexibility. You can cancel one or all of your devices at any time.

Subscriptions are pre-paid. When you cancel, your service and app will continue to work until the pre-paid service duration has elapsed. This is at the end of each month.
How long do the batteries last?

If you are using the recommended 1.5V AA lithium batteries (included), battery life is expected to be 2 years. Do not use Alkaline batteries in your Flex Aware.
Do I need a SIM card?

Flex Aware has a built-in cellular connection through Verizon or AT&T – so there is no additional SIM card required! You will be prompted to select which cellular carrier you want for each Flex Aware after purchase. Cellular carrier options include Verizon and AT&T.
Which cellular provider should I choose?

Immediately after purchasing your Flex Aware device(s), you will be asked to finish setting up your account. During this process, we calculate which cellular carrier is most reliable based on where you intend to install the Flex Aware. Our setup process is easy and only takes a minute after checking out.

Please note: We do not offer third-party SIM card support. Our built-in carrier options are Verizon and AT&T.
Do you charge a subscription for the All Aware app?

We do not charge for using the All Aware app. We charge a subscription for the devices you have on your All Aware account. Subscription amounts vary by customer depending on how many devices you have on your account.

Your subscription is dynamically displayed in the cart.
Can I add additional users to my account?
Do you have installers, or can I install it myself?

You can install the Flex Aware without an installer.

Included in the box are multiple mounting options to help your installation. Screws, zip ties, and strong dual-lock tape are all provided free of charge.

Additionally, when installing your Flex Aware, there is a step-by-step installation wizard on our app that walks you through the process along with a complete installation video.
"
It's really a peace of mind device for me. 99% of the time I remember to close my garage door, but the Flex Aware was there for me the one time I forgot. Thanks to the notification I received, I was able to ask a neighbor to quickly close it and avoid any issues!
Molly R(Use-case: Garage Door at remote Condo)
"
Flex Aware
Perfect for most use cases including shipping containers.
Choose Flex Aware for any property that closes with a latch.
Tip: If it closes with a "click" and remains securely closed, Flex Aware is the right choice.
Works great on shipping containers, storage units, garden sheds, and more.
Flex Aware Connected Cable
Perfect for non-latching gates and entry points that do not completely close.
Choose Flex Aware Connected Cable for any non-latching gates.
Tip: If your property does not latch closed, Connected Cable is the right choice.
Works great on tube gates, farm gates, pasture gates, or openings that move freely.